Personal physiotherapy training
During individual sessions our focus will be just on you. If you have a musculoskeletal complaint or you find it important to enjoy every minute of your activity during a modern-minded physiotherapy session, you're in the right place!
Are any of these true for you?
• low back pain or joint problems
• sitting too much at work or school
• doing heavy physical work
• constantly having a load on one side of your body (e.g.: exercising asymmetrically)
• have recently given birth
• recently had operation
• doing a lot of sport (either competitively or as a hobby athlete)
If you feel like it is true for you, please do not hesitate to contact us! We help you to feel good in your skin. Together we are able to prevent injuries or to get back on the track even with existing issues.
We treat with a modern approach as we continually developing our skills and applying the latest therapies in a modern atmosphere with up-to-date gym equipment. A healthy environment and a good mood are proven to have a positive effect on healing, so we emphasize not only physical health but also mental well-being. It is important to know that if you choose us, you will not need hospital circumstances during your rehabilitation. Moreover, we will teach you, how to use your body and how to keep your spine healthy, in order to live a painless life even if time goes by. We will cut down the old, bad movement patterns and instead we automate the correct, complex, functional movements that you can use in your everyday life, or during training. We will teach you the basics of a spine-protecting lifestyle, sort out posture defects, and build a proper stability. We will align your breathing with your movement, so that is not only enhance your workout performance, but also your sleep quality will greatly improve!
What are you waiting for? The problems will not go away by themselves. We have the necessary knowledge and tools to bring you back into harmony with your body.
Let's get on the road to change!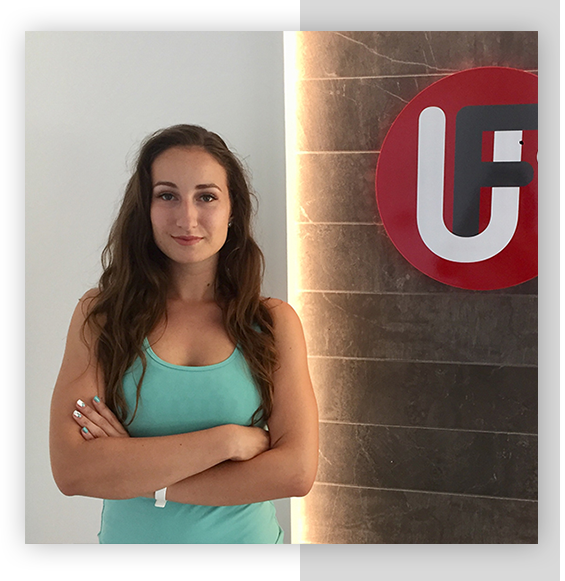 Your trainer
Szőke Szonja
Hi there!
I'm Szonja Szőke, physiotherapist and personal trainer. In the summer of 2019, I successfully earned my degree at the Faculty of Public Health in the University of Debrecen. I find myself extremely committed to both my profession and those who ask for my help. In addition to my university studies, I have continuously carried out a research among athletes and immersed myself in the mysteries of sport injury prevention, as well as in a number of postgraduate trainings. I believe that acquiring the latest knowledge is extremely important in making an up-to-date training program, so whenever I can, I expand my existing knowledge, so that I can approach the existing problem from as many aspects as possible, and offer the best solution to it. A few years ago, I also learned about the benefits of the high intensity interval training (HIIT), which I have been doing with tremendous passion in the recent years.
What can I offer to you?
– Complex musculoskeletal examination before starting a physiotherapy program.
– Complex physiotherapy exercise program if you just want a little recreation, but even if your musculoskeletal complains are already making your daily routine more difficult.
– Safe training with the principles of gradation and personalized physiotherapy.
– Additional techniques to extend the general treatment protocol: kinesio- and dynamic taping, SMR rolling combined with trigger point therapy.
– Lifestyle advice that can prevent or reduce pain or a non-physiological musculoskeletal condition.
– Additional important knowledge about the function of the musculoskeletal system of the human body and the problem that may exist.
Every decision begins with YOU! If you feel your muscles are ready for some maintenance or you want to get back in to shape after a bad move or injury, contact me with confidence.
My motto: In a year, you will wish you had started today.