What is pilates?
Pilates has been developed by Joseph Pilates primarily for rehabilitation purposes, and it has been here for more than 100 years. His method became a fitness trend in America and later it became the shape-forming method of the stars. (eg. Kate Hudson, Gwyneth Paltrow)
Pilates consists of stretching and strengthening exercises that focus primarily on the center of the body. It looks at the body as a whole, training it in unity, not limiting it to different muscle groups.
Pilates will result in a beautiful shredded body, improved posture, body flexibility and movement coordination.
Pilates stabilizes the spine's joints, makes the body stronger and flexible, explains muscular functioning to support and protect the spine.
To whom is it recommended?
Pilates was convinced that a man was as old as his spinal column. So, pilates can help everyone. It is for both the young and elder, the less trained and the athletic.
We recommend it for anyone who wants a strong but nice body, who does sedentary work, who does not like to jump around to loud music, who wants to improve their posture and to those who seek harmony.
"You will feel better in ten sessions, look better in twenty sessions, and have a completely new body in thirty sessions."
Joseph Pilates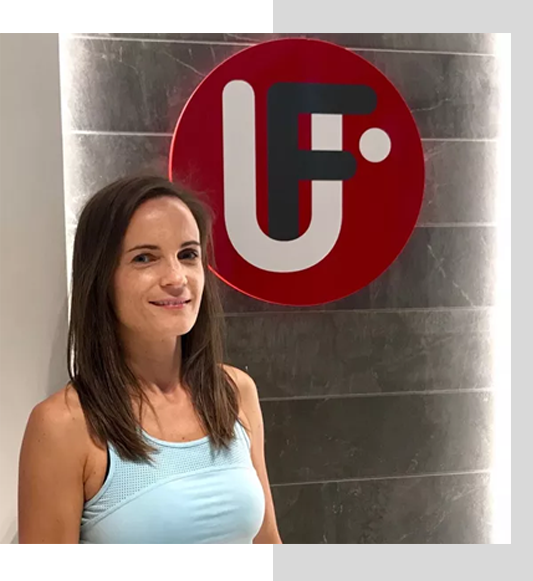 your trainer
Szilágyi Andrea
Sport, music and dance became a part of my life in my early years. I started playing ballet at age of 4, I went to a ballet school in Debrecen for 8 years, where many ballet classes and performances made regular physical activity a part of my life. I participated in swimming trainings for 6 years, and I competed in several competitions. I've been competitively dancing for 3 years, and I've been playing violin and guitar, so I have a high level of musical knowledge. I met aerobics in 2002 and I immediately got taken by it because it combines music, sport and dance.
In 2008 I got an aerobic training qualification and I held regular aerobic classes in several fitness rooms.
As a full-time job I work as a bank employee, so I sit a lot which led to continuous back pain. I tried to find a solution for this, and so I fell in love with pilates and in 2009 I also got a Pilates instructor qualification and extended my regular classes with pilates classes.
My first child was born in 2012, and since then I am the mother of three children. I exercised during and after my pregnancy, which helped me to maintain my shape, and pilates also helped with the regeneration and to overcome the difficulties (carrying, folding, back pains, fatigue, etc.) of taking care of babies. With regular exercise I show a good example to my children. Sporty lifestyle has become a part of their life already, and hopefully they will be fit and healthy adults. I would like people to find the joy of exercise with my help, because it is important for everyone. For this I have the right professional knowledge and I am persuaded to be able to use the best techniques in my work. I recommend my body shaping and pilates classes to anyone who want to have a good atmosphere, varied, whole body training sessions, and to those who want to lose weight, gain strength and get in shape without the fear of muscle injury.