HIIT
Interval training is based on the alternation of high and low intensity training sessions. High-intensity sections predominantly involve anaerobic-type exercises, while the regeneration period aims to reduce the heart rate with aerobic-type exercises or rest. High intensity interval training (HIIT) gradually reduces the duration of the training, but at the same time increases the intensity of the exercises, thus increasing the strength and endurance of the person. Training clearly increases vital capacity and performance as well, and we can burn more calories in less time.
Research has shown that while after an average aerobic workout, your metabolism returns to its original state after 24 hours, after an interval of training, it doubles, so your body can enjoy the beneficial effects of the exercise for 48 hours. The most prominent of these is the acceleration of fat metabolism, resulting in a significant reduction in subcutaneous adipose tissue.
Such an exercise program is recommended for those who want to reduce their body fat composition, increase their cardiovascular endurance, or simply want to push their limits.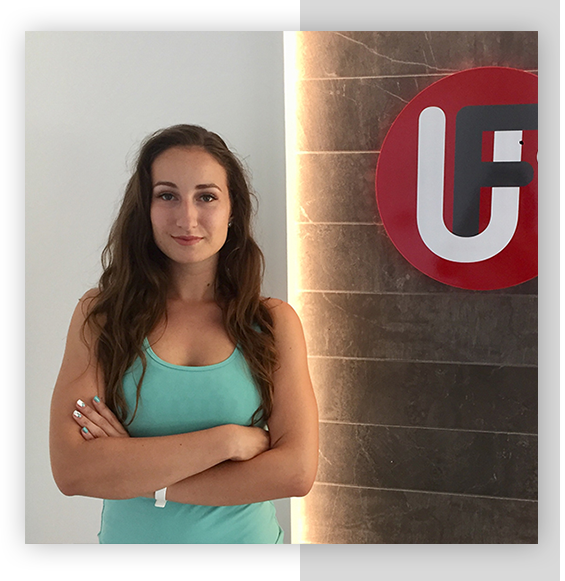 Your trainer
Szőke Szonja
Hi there!
I'm Szonja Szőke, physiotherapist and personal trainer. In the summer of 2019, I successfully earned my degree at the Faculty of Public Health in the University of Debrecen. I find myself extremely committed to both my profession and those who ask for my help. In addition to my university studies, I have continuously carried out a research among athletes and immersed myself in the mysteries of sport injury prevention, as well as in a number of postgraduate trainings. I believe that acquiring the latest knowledge is extremely important in making an up-to-date training program, so whenever I can, I expand my existing knowledge, so that I can approach the existing problem from as many aspects as possible, and offer the best solution to it. A few years ago, I also learned about the benefits of the high intensity interval training (HIIT), which I have been doing with tremendous passion in the recent years.
What can I offer to you?
– Complex musculoskeletal examination before starting a physiotherapy program.
– Complex physiotherapy exercise program if you just want a little recreation, but even if your musculoskeletal complains are already making your daily routine more difficult.
– Safe training with the principles of gradation and personalized physiotherapy.
– Additional techniques to extend the general treatment protocol: kinesio- and dynamic taping, SMR rolling combined with trigger point therapy.
– Lifestyle advice that can prevent or reduce pain or a non-physiological musculoskeletal condition.
– Additional important knowledge about the function of the musculoskeletal system of the human body and the problem that may exist.
Every decision begins with YOU! If you feel your muscles are ready for some maintenance or you want to get back in to shape after a bad move or injury, contact me with confidence.
My motto: In a year, you will wish you had started today.